Indicators for our holiday activities include:
Improved confidence and self-esteem
Reduced social isolation
Experiencing something new
What was the activity? What did you do? Where did you do it? How long did it last?
We ran holiday clubs for teens in every school holiday apart from the Christmas holidays. 
October half term: 2 days - theatre trip (Walton's Music Hall) and 2 half day trampolining sessions (Oxygen) 
February half term: 4 days – 3 days Create film-making workshop with Create, plus 1 day cinema trip (Lexi) 
Easter holidays (which coincided with Ramadan): 4 days – theatre trip (Unicorn) and 3 days Create painting workshop 
May half term: 2 days – 1 day pony care and riding (Wormwood Scrubs Pony Centre) and 1 day kayaking (Pirate Castle) 
Summer holidays: 12 days – 3 half days multi sports with professional coaches, 3 days equine therapy (Strength & learning Through Horses), 1 day kayaking (Pirate Castle), 1 day drama workshop (Natasha Stanic Mann), 1 day circus workshop (National Centre for Circus Arts), 1 day theatre trip (Regents Park Open Air Theatre), 1 day sightseeing tour (Liz Robinson), 2 half day trampolining sessions (Oxygen), 1 half day kite-making workshop (Good Chance) 
Lunch was prepared and provided by us every day. Fresh and nutritious and with very little single-use plastic – we washed and refilled plastic lunch boxes each day. For the first time, we provided breakfast too – pastries and fruit. Well-received and lots eaten. Also, for the first time, pizza one day in the final week.  
In the spring of 2022, we consulted with groups of children about holiday activities – with 13 new arrival children at CCA, with 20 CLC students at QPCS, and with 14 Year 10 EAL students at QPCS. Some of the children had attended previous Salusbury World holiday activities. Children said they would come to the club: 
Because it's fun
Because I enjoy myself
To have fun with my friends
Because it's boring at home
Time hanging out with friends was very important for many. We therefore continued last year's structure, combining an activity with a picnic and plenty of time simply hanging out. There was lots of enthusiasm for regular sports sessions, especially for football – as a result, we ran three sessions with qualified/experienced sports coaches, for the first time.  
At the February half term workshop, we discussed the forthcoming Easter holiday activities and the overlap with Ramadan and asked the Muslim teenagers whether they wanted to come to the club when they were fasting. Some didn't want to and others were keen to have something to do during their fast. They gave us and Create suggestions for the sorts of activities that might work. Painting was the top suggestion and the one we adopted. The relaxed atmosphere and the lack of physical exertion during the workshop worked well. 
Who attended? How many, ages/year groups, from which school/Wellbeing Centre, FSM, ages, etc.
81 children attended at least one holiday activity with us. The majority joined one or two activities but many attended several days (4 came 9 times and 3 came to 11 activities).  
We had a mixture of boys (32) and girls (49).  
Participants attend a number of local schools with the great majority coming from Capital City Academy and Queens Park Community School. The CCA students have been numerically dominant in the past; the spread between the two secondary schools in now more even. The numbers joining from the CLC have increased and CLC students now tend to join more sessions. This is probably due to work put in over the year to get to know the group and build trusting relationships (in no small part via Create workshops).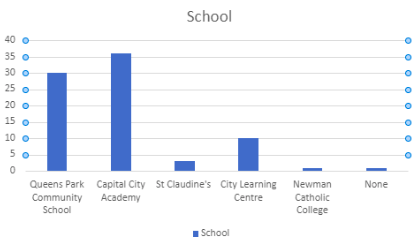 The breakdown between year groups/ages was fairly even this year, with the largest group being children in year 8.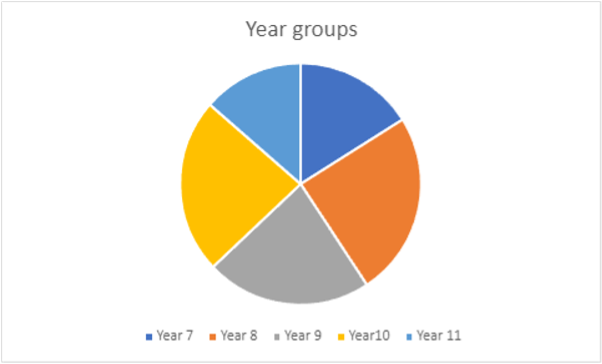 39% of our participants are in receipt of Free School Meals. 
We have 22 different countries of origin amongst our participants with 32% from Syria, 15% from Brazil and 7% from Kuwait. 3 children were from Ukraine. 
The languages spoken at home reflect the diversity of our participants:
What was the impact of the activity?
We asked participants to sum up each day in one word. Here's what they said...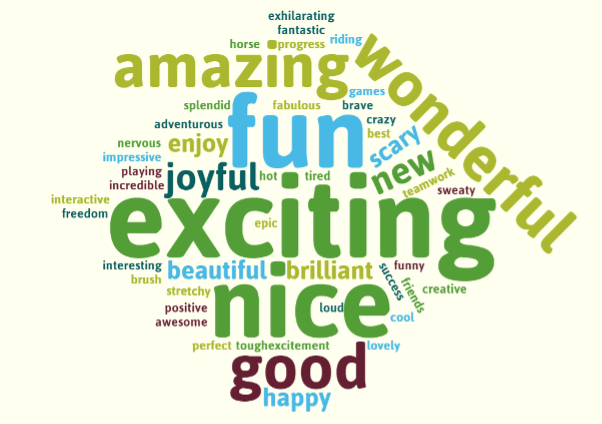 Our daily evaluation told us that all the participants enjoyed the activities – every activity had a 100% approval rating save for the drama workshop which had a lukewarm response. We will discuss and review it with the facilitator. 
We surveyed most of the families of children who participated in the club for teens. 17 (of 32) replied. Key feedback was: 
Every respondent thought their child had benefitted from attending the club

 

15 of the 17 respondents would recommend the club to other families

 

6 of the respondents (35%) said they would

not

be happy for their children to go on these trips if they weren't organised by Salusbury World. We would expect that those who responded to the survey were those who are most fluent in English and who are most confident generally – and most likely to be happy with their children doing these things without us. Our expectation is that this percentage would be even higher if we had heard from everyone.

 
Improved confidence and self-esteem 
Evidence from various sources confirms the holiday activities made a difference to confidence and self-esteem: 
Partners like Create and Strength & Learning through Horses gathered self-assessment feedback from the children after 3-day workshops – on each occasion, the majority said their confidence had grown.

 

Children told us they felt more confident.

"I was scared at the start and then I wasn't."
"I felt so nice when I could walk next to Ghost [horse]."

"

I felt on the start a bit scared but when I started to do it more, I felt more comfortable with the others."
"I can express my feelings. I can't speak so good so a good way to express in painting."
"Here you can do anything. You can express your feelings without writing or telling anyone."
"I was so comfortable." 
 Salusbury World staff observed children growing in confidence. 
Reduced social isolation 
Several participants told us that the club was one of the few chances they had to socialise outside their home: 
"It's boring at home." 
"Mum is too strict to let me out on my own" 
"I'd be doing laundry or helping mum [if I wasn't here]" 
"I'd be on my phone [if I wasn't here]" 
"It's good to have a break out of the house"  
Many children attended the club along with their friends and were keen to make the most of time together. Friendships also developed between children who didn't know each other previously – from different schools and from different ethnicities/language backgrounds. 
Encouraging new friendships and widening social connections was helped by activities where children were paired up or put into groups. The Create artists and the instructors at the National Centre for Circus Arts and at Strength and Learning through Horses were particularly adept at avoiding grouping existing friends together and supporting pairs/teams who didn't know each other well; our staff saw connections made on these occasions develop when children met again at subsequent activities.  
One participant said, "I wanted to be in a group with my friend, but being with a different partner was good." Another said, "I liked how well we worked together." 
Experiencing something new – we achieved this, whilst also meeting the children's clearly-expressed wish to revisit some familiar favourites: 
Circus skills – no-one had done this before (and everyone wanted to do it again).

 

Kayaking, equine therapy, theatre trip – new to some participants and others had done it before

 

Sport, trampolining – familiar to everyone

 
Q talked about the pleasure of doing something for the second time: "The first time was fun but I liked it even more this time. The first time I didn't know how to do it. It's really good doing something again and remembering what you learnt before."
We were excited to be contacted by one participant after the film-making workshop; he wanted to have details of the app we used so that he could make more films independently.