Salusbury World relies on our extended family of over 100 volunteers to support and empower refugee children and young people in Brent.
Volunteers support young refugees, helping them overcome barriers and realise their rights.
📣 Thanks for your interest in volunteering. We're currently not recruiting for any roles.
 You can contact us at rachel@salusburyworld.org.uk if you have any questions/queries.
I get even more out of the  mentoring  relationship than I bring – and I bring a lot of myself to it.
Salusbury World has made my volunteering experience here incredibly enjoyable! I'm so grateful for the experience. I developed an amazing relationship with my mentee and really enjoyed being part of her progress.
I want to say thank you for giving me the opportunity to mentor for such a worthwhile charity... I really admire [its] mission …. I would like for it to thrive.
I first started volunteering with the after school club at Salusbury World while studying for my MA to gain experience working with refugee and asylum seeker children…and then never left!
It is especially amazing to see how your support as a volunteer makes a difference to them. Seeing those who have recently arrived in the U.K. settle in a new environment, improve their language skills, communication and increase in confidence is such a privilege.
Volunteering here is an incredibly fulfilling and humbling experience.
Volunteering at Salusbury World is really rewarding. The team is committed and passionate about the charity and this really shows in their work.
Volunteers are valued members of the team and there is a real focus on how this experience can help with their personal development as well as what they can bring to the charity.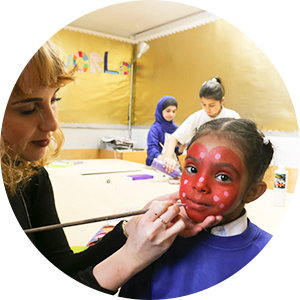 Homework club
Our Homework club for primary school children (aged 6 to 11) happens on Tuesday and Wednesday afternoons in term time, from 3.30pm to 5.45pm. We meet at the Granville Plus Family Wellbeing Centre in Kilburn (NW6 5RA).
The club is a relaxed place for children to work on their homework, English language, reading, Maths and school projects - and a place to have fun and make friends. We divide our time between homework and play and art activities.
Our volunteers help refugee and migrant children to improve their English and to feel more confident with their homework and in class, and so to overcome these barriers.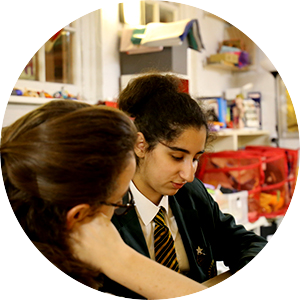 Educational Mentoring
Young refugees and migrants experience considerable barriers to education, including limited English, disrupted educations and the stress and confusion of adjusting to a new school system with unfamiliar teaching methodologies.
Mentors assist mentees with their schoolwork and related skills (e.g. literacy, numeracy and research). Many also offer advice and practical help around careers and accessing further and higher education.
Mentoring has a wealth of positive impacts on young people's lives, including improved English proficiency and academic performance as well as heightened confidence, wellbeing and ambitions for the future.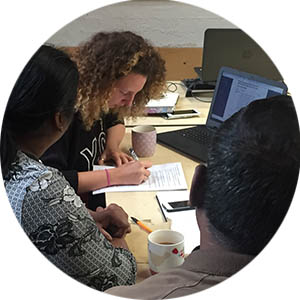 Advice project
The advice and advocacy project at Salusbury World provides advice for migrant and refugee families on housing, benefits, health, liaising with immigration solicitors, community care, employment and family matters.
Volunteers support us by offering advice to our clients on their basic welfare rights and entitlements, along with record-keeping and assisting with the general running of the project.
Volunteers should be able to speak clearly and confidently, adapting style to needs of clients. They should also be able to produce clear well-structured advice and be able to build good rapport with vulnerable migrants and refugees.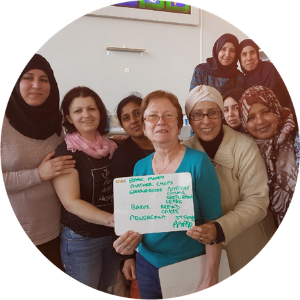 Women's English Classes
Salusbury World provides English (ESOL) classes for parents of children attending our catchment schools led by a qualified ESOL teacher. It is mostly mothers who come to the classes and they speak little or no English.
Volunteer tutors prepare lesson plans and create appropriate materials to meet the students' speaking, listening, reading and writing needs.
Volunteers should be fluent in English. A CELTA/TEFOL qualification is desired but not necessary. Volunteers must also be sensitive to cultural differences and have a strong desire to work with refugees and different migrant communities