17-23 June 2019 – Theme: "You, Me and Those Who Came Before"
2019 is a big year: the 80th anniversary of the outbreak of WW2 and the consequent 'refugee crisis' in continental Europe and the 20th anniversary of Salusbury World opening its doors, at the time of a previous iteration of a 'refugee crisis' in Europe.  Find out more here.
One way of getting involved in Refugee Week with Salusbury World is attending our film screening with the Lexi Cinema on World Refugee Day (20th June).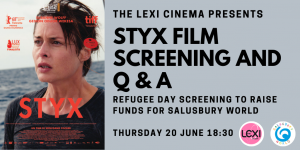 Other resources
The Migration Museum has brilliant exhibitions accessible for all ages. https://www.migrationmuseum.org 
This year 'Room to Breathe'  https://www.migrationmuseum.org/exhibition/room-to-breathe/ is outstanding. You can find it in Lambeth (10 mins Lambeth North tube- Bakerloo) & open for visits Wednesday-Sunday. On the website, there are links to audio recordings relating to the exhibition.  
All the major arts organisations will also be organising workshops, celebrations, exhibitions etc throughout May, June & July.  
You can get an overview at www.refugeeweek.org or https://counterpointsarts.org.uk/ 
In 2019 the Shubbak Arts Festival (festival of contemporary Arabic culture, takes place every 2 years) is happening.  
For more info: https://www.shubbak.co.uk/